NAV TechDays 2015
NAV TechDays is the name of a conference, organized by mibuso.com. The goal of this conference is to offer 2 days full of – technical only and highly relevant – sessions, related to Microsoft Dynamics™ NAV.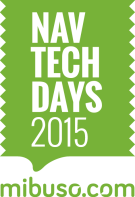 NAV TechDays is the place where some of the best developers and leading business owners cross paths, exchange ideas, find partners and conceive projects. It is where community ties are strengthened and where boundaries will be broken. It is where you want to be to make things happen. If you are passionate about Microsoft Dynamics NAV, then you need to be at NAV TechDays!
"For me NAV TechDays is one of the highlights of the year where we get to share details about our newest release with a huge part of the NAV technical community, receive feedback and get suggestions on what to improve in the product. Compared to other tech conferences NAV TechDays is extremely well planned and flawless execute spanning across registration, AV setup, exhibit area and catering."

Michael Nielsen (ex-Director of Platform Engineering, Microsoft Development Center Copenhagen - Denmark)
The 5th edition of this conference will be held in Antwerp (Belgium) on Thursday 19 & Friday 20 November 2015, with a pre-conference day packed with workshops on Wednesday 18 November.

Sessions:
Tips, Tricks & Tools for NAV/SQL Troubleshooters
Connecting to the outside world: How to get the best out of web services
Client Add-ins Black Belt: bringing .NET and JavaScript together
Deploying and Managing Microsoft Dynamics NAV 2016 with Azure SQL Database
Team Foundation Build and NAV Development
Thinking out-of-the-box with NAV development
Understanding Grouping in RDLC Reports
NAV 2016: Workflow, Dynamics CRM Integration and Events
NAV 2016: Electronic document management & OCR
NAV 2016: Phone client / webclient enhancements / Windows 10
Design Patterns in NAV 2016
Dynamics NAV managed service for partners
Workshops:
Document Reporting in NAV 2015
Working with Powershell and Microsoft Dynamics NAV
Troubleshooting Essentials for SQL Server and Dynamics NAV
Power BI for Dynamics NAV
Let it build! (TFS Build for Dynamics NAV)
NAV ALM using Team Foundation Server
Implementing the RoleTailored client with success
Installing and configuring SQL Server for Microsoft Dynamics NAV
Developing control add-ins for Microsoft Dynamics NAV
NAV on Azure & In Office 365
An introduction to Scrum
Generic, Repeatable & Low footprint coding techniques
Microsoft Dynamics NAV Application Architecture and Design Patterns
Look at our conference website for the session abstracts: http://navtechdays.com/2015/sessions

Reserve your seat and register today !
All news