NAV TechDays 2018: Call for Speakers
NAV TechDays 2018 takes place on 22 & 23 November 2018 in Antwerp (Belgium), with 2 workshop days on 20 & 21 November.
The Call for Speakers for NAV TechDays 2018 is now open.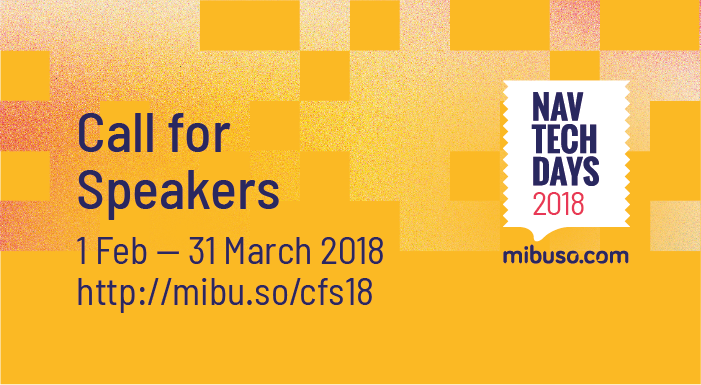 Audience
The conference hosts a mix of audience including Dynamics NAV developers (both working for NAV partners as for customers), company owners, consultants as project and product managers. The majority of the attendees are technical oriented and have development skills. Last year, we welcomed over 1200 participants coming from 44 countries.
Workshops
On 20 & 21 November, full day workshops are organized in the conference hotel (Lindner hotel). We have space for 10 workshops per day (capacity of the rooms varying from 10 to max. 20 seats). As a workshop teacher, you'll receive a training fee.
Sessions
On 22 & 23 November, the actual conference takes place. NAV TechDays is hosted in a movie theatre, guaranteeing optimal viewing, listening and seating conditions. With session lengths of 90 minutes, there is plenty of time for in-depth tracks, sustained with live demos and coding. Only non-commercial, technical sessions are allowed. Please refrain from any marketing content. Conference language is English.
All sessions will be recorded and made available for download on mibuso.com and YouTube after the event.
Travel & Expenses
Full conference passes will be provided for all selected speakers. Any travel costs including airfare, hotel, etc. will be the responsibility of the speaker.
Submit your proposals through this link: http://mibu.so/cfs18
All news