NAV TechDays 2019: Call for Speakers open
NAV TechDays 2019 takes place on 21 & 22 November 2019 in Antwerp (Belgium), with 2 workshop days on 19 & 20 November.
The Call for Speakers for NAV TechDays 2019 is now open.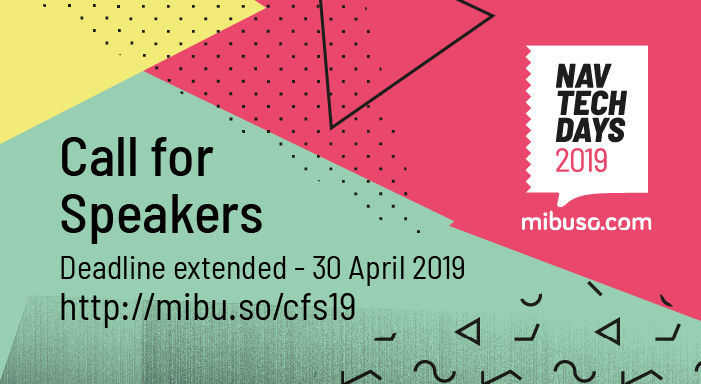 Audience
The conference hosts a mix of audience including Dynamics NAV/365 Business Central developers (both working for Dynamics partners as for customers), company owners, consultants as project and product managers. The majority of the attendees are technical oriented and have development skills. Last year, we welcomed over 1350 participants coming from 46 countries.

Workshops
On 19 & 20 November, full day workshops are organized in the conference hotel (Lindner hotel). We have space for ca. 10 workshops per day (capacity of the rooms varying from 10 to max. 25 seats). As a workshop teacher, you'll receive a training fee.
Workshops are full-day training sessions (9:00h - 17:00h, one hour luch, breaks). You can host a one-day workshop and repeat that the 2nd day, you could host a workshop that spans two days, or you an host two different one-day workshops. The choice is yours.
We will use the WiFi-network of the hotel which was pretty reliable the previous years. Each participant uses their own laptop. We don't provide virtual machines but you can. Prior to your workshop, you can send out a mail to your participants with any prerequisites or instructions so they can show up fully prepared.
Sessions
On 21 & 22 November, the actual conference takes place. NAV TechDays is hosted in a movie theatre, guaranteeing optimal viewing, listening and seating conditions. With session lengths of 90 minutes, there is plenty of time for in-depth tracks, sustained with live demos and coding. Only non-commercial, technical sessions are allowed. Please refrain from any marketing content. Conference language is English.
All sessions will be recorded and made available for download on mibuso.com and YouTube after the event.
Content
There is a large number of installations of previous Dynamics NAV versions, based on the C/AL language. It's definitely worthwhile to submit content which is targeted to these versions. Obviously, all content concerning 365 Business Central are welcomed as well. Look at last year's sessions to see what was covered.
Travel & Expenses
Full conference passes will be provided for all selected speakers. Any travel costs including airfare, hotel, etc. will be the responsibility of the speaker.
All workshop & conference speakers will be invited to attend the speakers' dinner on Wednesday evening.
Submit your proposals through this link: http://mibu.so/cfs19
All news