TRIMIT A/S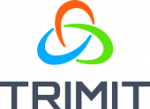 Industry-Ready Business software
TRIMIT is a vertical ERP software solution that has been developed and refined since 1990. The business software is a great fit for companies that work with:
Apparel, fashion, and accessories: TRIMIT Fashion
Furniture and home furnishings: TRIMIT Furniture
Sales and product configuration: TRIMIT Configuration
Minimize the need for Customization
With TRIMIT, companies get a flexible and scalable business software solution with most – if not all - of the functionality they need out of the box. This minimizes the need for costly and time-consuming customization of Dynamics NAV/Dynamics 365 Business Central.
Furthermore, the core ERP software solution can easily be scaled with TRIMIT's large range of ready-to-use web shops and portals.
More Business – Less Resources
TRIMIT is built to help companies do more business with less resources.
With TRIMIT, companies can immediately benefit from the years of industry-knowledge in the solution to automate, streamline, and optimize their business – from design to delivery.
https://www.trimit.com
Business directory